5 February 2007

Set 1:

Kapotte Muziek

Frans de Waard - objects and electronics
Peter Duimelinks - objects and electronics
Roel Meelkop - objects and electronics

Using amplified everyday objects to make improvised music, Kapotte Muziek is a trio with a long history. Think metal, stone, paper, wood, plastic, glass and plenty of microphones.

Set 2:

Kerbaj, Sehnaoui, Yassin Trio

Mazen Kerbaj - trumpet
Sharif Sehnaoui - acoustic guitar
Raed Yassin - double bass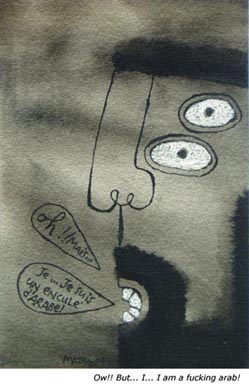 This trio comprises three musicians from Beirut, touring Europe before a large tour of the US. The second time at DNK for Mazen Kerbaj and Sharif Sehnaoui, but the first time for bassist Raed Yassin. In their years playing around Beirut and touring internationally, these three have developed a unique style of improvised acoustic sound music. In 2000, Mazen Kerbaj played a duo with Lebanese saxophonist Christine Sehnaoui, which was probably the first improvised music concert in the Middle East. Mazen is one of the new artistic directors of STEIM and as well as musician, he is a prolific satirist and cartoonist in Lebanon.